HI TOP 2-3 BERTH CAMPERVANS FOR SALE
Ex-rental Hi-top Campervan fleet (2007 - 2010)
Travellers Autobarn has over 20 Toyota Hiaces for sale! Our Toyota HiTOPS Campervans are amazingly reliable and are very well maintained mechanically. Toyota can take most of the credit but we do look after them very well, it pays to do so!
In fact, they are so good we'd like to keep renting them but as we rent a lot of our vehicles through travel agents we do have to keep the age of the fleet down. As a result every year towards the end of high season we start to sell (defleet) some of the older vehicles, not because they are tired and old and in need of a rest but simply because we want to keep the rental vehicles all under 8 years old (or thereabouts).
Key Features
Ideal for two people
People who are planning to travel 6 to 12 month
Lots of savings on accommodation
Fully equipped with kitchen (incl. fridge)
Easy to sell at the end of your trip!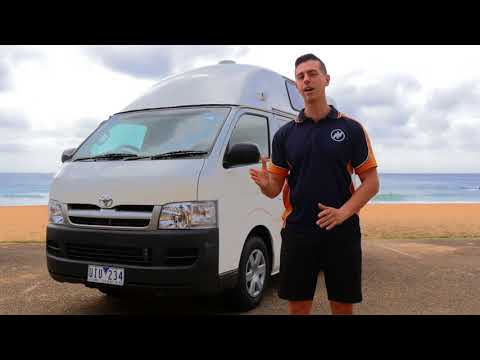 Toyota Hiace HiTOP Camper van prices range from $15,990 to $25,990 depending upon condition and kilometres. Call us at 1800 674 374 for any questions you might have.
We even offer different delivery options:
Will refund the cost of airfare to our nearest branch for country buyers (up to max. $400)
Free delivery to most areas in Australia – outback & remote area delivery costs $1000
Travellers Autobarn offers Ex-Rental Toyota Hiaces for sale between $13,900 – $19,900 and will include guaranteed buyback (UP TO 50%!!!!), road-side assistance, 2 week total warranty, 10,000KM/6 months engine & gearbox warranty, full mechanical service and MOST IMPORTANTLY SUPPORT BY OUR STAFF.
Travellers Autobarn Car Sales Benefits
Nationwide Guaranteed Buyback: We offer a guaranteed buyback guarantee on the majority of our fleet
3 Day 100% money back guarantee: We will refund the full value of the used vehicle in the first three days if there is any genuine and serious mechanical fault.
2 week total warranty: We will rectify within reason any problem that arises within 14 days - all parts & labour will be supplied free. A claim limit applies - please see our Terms & Conditions for more information
5,000 km/10,000 km Australia-wide engine and gearbox warranty: Inside 5,000 km's / 10,000 km's (depending on chosen model & agreement) of your trip, if the engine and gearbox needs replacing, Travellers Autobarn will organise & pay for the work to be done, wherever you are! A claim limit applies - please see our Terms & Conditions for more information
10% discounts with caravan parks: We will provide you with a 6 month membership which will entitled you to 10% discount with caravan parks
Try & Buy scheme: Rent your desired vehicle for up to 14 days and then make a decision - we will even deduct the rental fee of the sales price.
TAB App: All the information you require to keep your vehicle running plus
Full mechanical inspection and service: All our vehicles are serviced by qualified mechanics and come with a government endorsed roadworthy certificate recognised across the country.
Registration & Registration Extension Solutions: We will help you with your vehicle registration and give you advice on the ideal vehicle registration length.
Guaranteed Title: You buy the car, you own the car...
Roadworthy Certificate: All vehicles undergo a thorough workshop inspection where they are prepared for the trip ahead.
Roadside assistance membership: Australia wide roadside assistance with a phone call. You can ring NRMA 24/7 and they will send someone out to your vehicle to assist you.
FREE CALL Aftersale 1800 supportith any matters about your vehicle. Our After sales team have the experience and knowledge to handle any situation.: 7 days a week (business hours) you can call, for free, and ask for advice or help with any matters about your vehicle. Our After sales team have the experience and knowledge to handle any situation.
Access to our network of trusted mechanics: Australia Wide over 500 mechanics.
Maps, Discounts & Camping Gear:
End of Trip Selling advice: We will assist you in selling your vehicle privately for a better price. The more you sell it for, the less the trip has cost you. You are further entitled to a gold membership on Cars 4 Backpackers
SPECIAL OFFER – Two Nights FREE Accommodation! 2 Nights Free hostel style accommodation and airport pick-up on arrival if you pay a deposit for a Sales vehicle before arrival!