CHUBBY CAMPERS FOR HIRE
Toyota Hiace Campervan 2 Berth (2018 - 2019 Fit-Out)
Quick Facts
Adults
2
Gas Cooker
Sink
Light
Usb
Ice Box
The Chubby Campervan is the perfect 2-berth van for the Australian road trip of a lifetime! Whether you are setting off down the coast or exploring far and wide, this savvy and compact camper has all your road trip needs covered.
The Chubby Camper is ideal for two people with lots of internal space to eat & sleep as well as a built-in kitchenette with lots of space to cook PLUS funky LED internal lights PLUS 2 USB CHARGERS!!!
And yes – it comes with a TROPICAL ICE BOX that will keep your ice much colder & last longer than a usual esky (plus you save on any campsite fees as it doesn't require any electrical power to recharge). With plenty of storage for your personal items as well as two electrical power-plugs to charge your electrical appliances (only at powered campsites) all you need to throw in is your sense of adventure.
BOOK NOW – PAY LATER
Travellers Autobarn recognizes that booking a holiday these days can be difficult. Due to many uncertainties we are offering flexibilities around payments, cancellation and changing bookings! More info here…
Key Features
Fit-Out 2018 to 2019
Very Spacious & Large Kitchenette
2*USB Plug-Ins
Tropical Ice Box
2*240 V Power
Our Benefits
Access to FREE CAMP SITES
10% discount on premium camp grounds
TAB Drive Guide - access to exclusive discounts
TAB App - free roadtrip info
Extras
Unlimited Kilometers
Toll Free Service Number
24/7 Roadside Assistance
Free road Atlas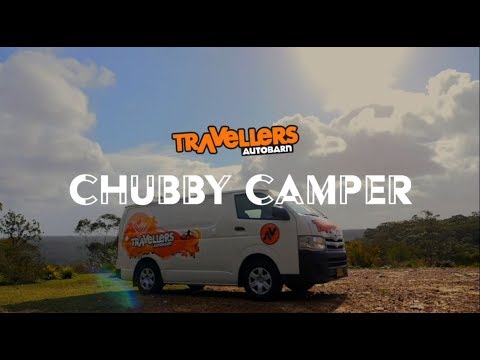 Specification Sheet
Vehicle age: 2010 to 2014
Interior fit-out age: 2018 to 2019
Transmission: Manual or Automatic (for automatic please contact us - no guarantee until confirmed/automatic not available for pick-ups in Darwin)
Engine: 2.4 litre, 4 cylinder
Fuel: Unleaded
Fuel consumption guide: 13 - 14 litres/100 km
Power Steering: Yes
Dual battery: Yes
Power supply: 2* 240V to charge electrical appliances
Seating: 2
Air Conditioning Front Cabin
2*USB Chargers
LED Internal Lights
Sink
Portable gas cooker
Cigarette lighter / Charger
CD player & MP3 plug-in
25L Tropical Ice Box
Fire extinguisher
Baby seat (0-3 years): Not suitable for children under the age of 4 years.
Baby seat (4-7 years): Available
Our Chubby Campers are fully equipped for travelling and living comfortably in the outback, the city, or just down at the beach. With plenty of storage for your personal items, all you need from this cheap van hire to throw in is your sense of adventure.
Our Campervans are the best budget rental deal that you could get. Also, consider this, when you buy bus tickets and accommodation per person, and throw in the extra transport you may need when the bus only drops you in the centre of town, this is the much cheaper option!
---
You may also be interested in: