The Classic Aussie Station Wagon Rental
Ford Falcon Stationwagon 2-5 Passengers (2006 - 2010 Model)
Quick Facts
Adults
2-5
Tent
Chairs
Esky
Gas Cooker
Rent an Aussie Classic! Hire the legendary Aussie Ford Falcon Station Wagon to today! Dating back to the '60's The Ford Falcon Wagon is about as Aussie as it gets. These wagons power up hills, boasting a straight-6 4.0 litre engine that can carry up to 5 people AND anything else you care to pack in without missing a beat. A Backpacker Classic, A  Bush Mechanics Dream, A surfin' wagon, a bush basher, whatever you want to call it these machines hold a special place in Aussie Automotive History. Tough, reliable and low-tech – perfect for Aussie distances and Aussie conditions. Driving one of these around Australia is not just a road trip it's a cultural journey of enlightenment, before the world went mad and the entitlement pandemic broke out these were consider the 1st Choice for any Aussie Road Trip.
Not only that – the Classic Aussie Falcon Wagon is very cheap! Prices vary according to season, availability and length of rental but if we take an average price of $40 per day and split that between 4 travellers – THAT'S ONLY $10 PER DAY EACH!!!!! A beer costs more than that at many pubs!
We can configure the wagon to suit your needs – you can either sleep in a hotel, sleep in one of the tents provide to you or in the back of the Station Wagon like in the 80s (you can hire a mattress, sleeping bags & pillows for $45/rental from us!!!).
Read more on why you should hire a Stationwagon here…
Key Features
Ideal for groups
Lots of space for luggage
Option to sleep in tent or back of vehicle (own mattress required)
Fully equipped with cooking gear
Gas cooker & esky
Our Benefits
Access to FREE CAMP SITES
10% discount on premium camp grounds
TAB Drive Guide - access to exclusive discounts
TAB App - free roadtrip info
Extras
Unlimited Kilometers
Toll Free Service Number
24/7 Roadside Assistance
Free road Atlas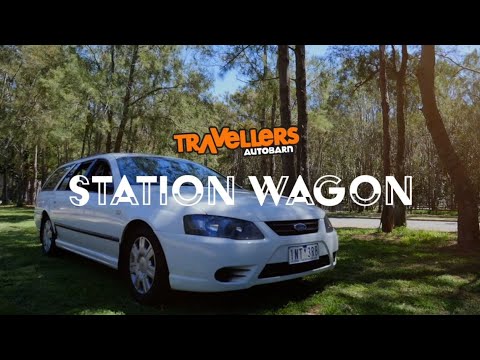 Specification Sheet
Vehicle age: 2006 - 2010
Transmission: Automatic
Engine: 4.1 litre, 6 cyclinder
Fuel: Unleaded
Fuel consumption guide: 12 - 14 litres/100 km
Powered Steering: Yes
Seating: 2 - 5
Air Conditioning Front Cabin
Cigarette lighter / Charger
All vehicles come with radio and potentially CD/MP3 Player
Baby seat (0-3 years): Available
Booster seat (4-7 years): Available
Tent: 2 man dome tent (part of living equipment)
Length: 5.3 m (average)
Height: 1.5 m (average)
Width: 1.7 m (average)
Interior height: Not relevant
Kitchen cutlery
Kitchen pots & pans
Tea towels
Cleaning equipment
2 man dome tent
2 camping chairs and table
Water tank
Esky
Portable gas cooker
Pull up at the beach, a caravan park or a beautiful site on the Australian coast, cook dinner al fresco, and bed down listening to the sounds of the Australian bush.
---
You may also be interested in: